Your best party ever
Make your event a big success with a professional Photo Booth- Available for your Staff Function, Wedding Reception, Birthday Party, any Get-together .
We make it your photo-booth by creating a custom layout for your 4X6 photo's and print them instantly at your event.

Be sure to visit our FAQ page for a ton of useful info.
WHY CHOOSE MY PHOTO BOOTH
Large PhotoBooth screen with fun animations
Friendly and professional on-site Attendants
Unlimited hi-resolution commercial quality prints printed on site

- can include text, colours, company logo, images, in any design style

Custom designed 4 x 6 or 5 x 7 photo layout artwork for your event including your color scheme, custom text, and from 1 to 5 pictures
Custom designed 'Home Screen' using your theme, colors etc. or branding for corporate events.
Full use of our large selection of fun and goofy Photo Booth Props- Hats, glasses, Feather Boas and much more to enhance the fun and entertainment
Re-print station for printing additional copies of your picture and e-mailing of pictures
Digital copies of all Photos- A thumb Drive after the event with all the photobooth session pics as well as all the individual pics in high quality.


Less $$ than you think...
We Know How To Turn On The Fun
Add some fun to your next event with a fun and interactive photo booth.
MyPhotoBooth has been enjoyed at bridal showers, corporate events, birthday parties, and family reunions and much more…the possibilities are endless!
We are committed to providing you and your guests with the best customer service and care with an experience that will leave everyone talking long after the event has ended. We love when we hear from clients that "The Photo Booth was the big hit of the night".

It would be our absolute pleasure to be part of your special day or event.
A Photo Booth always adds a unique and lasting memory for you and your guests.

With MyPhotoBooth you always get an on-site assistant, unlimited high-resolution commercial quality prints in real time, custom designed 4 X 6 photo layout with preferred color scheme, custom text etc.. A huge selection of props like hats, glasses, feather boas, etc., as well as reprint station for additional copies, and social media sharing to Email or SMS. In addition, a thumb drive and high-quality pictures are part of the package. Our photo booth has an extra-large touch screen, custom lighting, and also personalized home screen advertising.

My Photobooth based in Riverview, New Brunswick offers affordable, one-of-a-kind Photo Booth services.
MyPhotoBooth caters to all special occasions and events and serves Greater Moncton and South Eastern New Brunswick.

We hope you will consider making MyPhotoBooth your photobooth.

Some samples from some of our fun events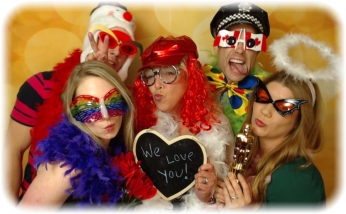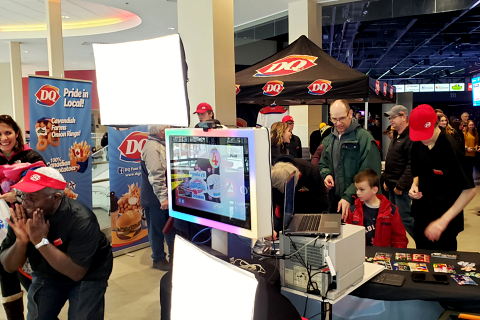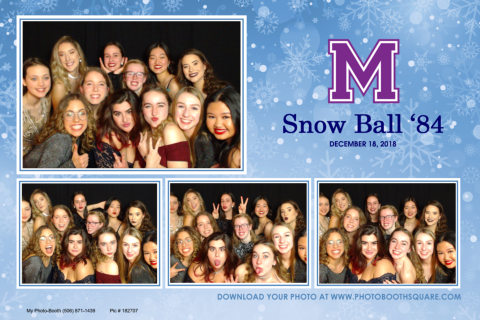 MyPhotoBooth can now create Trading Cards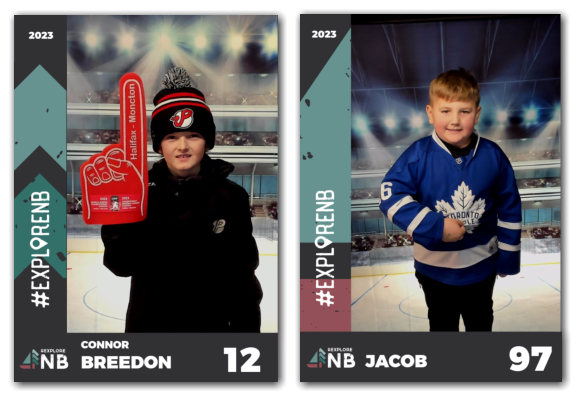 MyPhotoBooth is a custom designed and built software application and a 100% Canadian product developed in New Brunswick Canada.Recently we were asked if we could customize our software to create Hockey Cards for the World Junior Hockey Tournament held in Moncton NB At the end of 2022 and early January 2023.We modified the software to allow the guests to enter their Name and favorite player number. MyPhotobooth then generates and prints a 2 x 2 grid of standard size trading cards, which we then cut out for the happy guests. We provided this service for 6 days during the tournament and everything went without a hitch... And we had a ton of fun.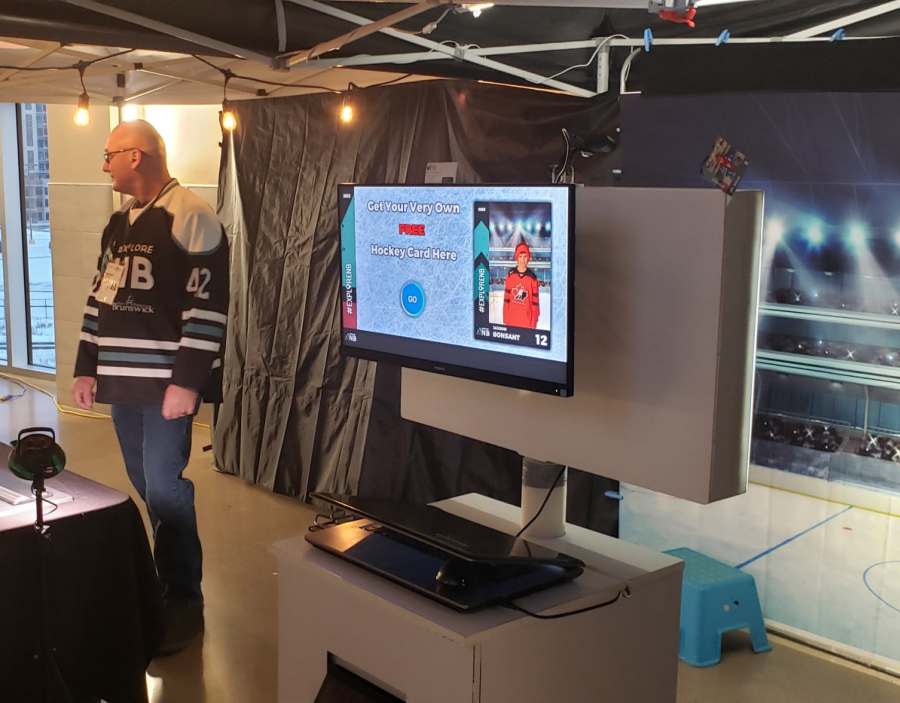 Some of our reviews from WeddingWire.Com
LET'S START PLANNING ‍YOUR NEXT EVENT!
Feel free to contact us with any questions regarding My Photo Booth features or Pricing. We offer customized services to meet your needs, and are available anytime to answer your questions! Fill in the form below and tell us about your event and we'll get back to you
A deposit is required to hold and secure your date and time and guarantee your quote . The balance is due before the event starts. We accept cash, cheques, credit cards, PayPal transactions, and interac e-transfers. The deposit is non-refundable but good for 13 months if you need to change your date. Additional travel charges may apply if your event is more than 40 Km from Moncton Center.

Please contact us for a quote.

Regarding Covid-19
These are strange times...
In light of the Covid 19 pandemic some couples need to change their planned wedding date.
Weddings are supposed to be fun and not stressful.
If you plan to book your wedding this year but are unsure what the state of the Covid Lockdowns will be at the time of your event, we try to be as flexible as we can to help limit that stress level.
At the time of your event, if Social Distancing is still required, we may need to implement a few changes from the norm:
- We may need to limit the number of people in each shot- We would have the attendant only touching the touch screen.
- If the guest wants to email or text their photo, either the attendant can enter their Text number or- the guest can simply text their photo number to our Photobooth SMS (Text) number and their photo will be automatically texted to their phone.
- As par as prints go, there is no concern as no one would touch the print except for the guest it was printed for.
- If required, attendants will wear a mask.
- If Covid restrictions are still in effect, we may need to restrict the use of Photobooth props.